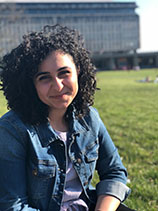 Pegah Moradi is a PhD student in the Department of Information Science, where her research focuses on how new technologies and the digital economy impact the future of work, privacy, and politics.
She received her BA in the College Scholar program at Cornell, where she studied the effects of AI-driven automation on job displacement for different racial and ethnic groups in the United States. Before beginning graduate school, Pegah worked as a project manager at an enterprise software company in the D.C. area.
Outside of research, you can find Pegah crosswording, running, or watching women's soccer (go Spirit!). She enjoys picking up new hobbies and is always open to reality TV recommendations. She is excited to learn about all the unique backgrounds, interests, and passions that exist within our Cook House community!