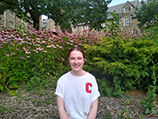 Undergraduate Resident Fellow
Erica Kirchhof is a senior majoring in Plant Sciences with minors in Climate Change and Inequality Studies. Originally from Albany, New York, Erica transferred to Cornell in Fall 2019 from Schenectady County Community College, where she studied biology. In previous years, Erica has been very involved with Cook House through the Cook Collective, working with the Nature and Wellness Council before serving as president.
Erica is interested in studying the resilience of plants to environmental stressors, especially through the lens of climate change. She's also interested in the relationships between plants and people. Outside of class, Erica works in the Vatamaniuk Lab where she studies copper homeostasis in Brachypodium. In her free time, Erica loves to connect with friends and explore the many wonderful natural areas that Ithaca has to offer.
Erica is very excited to connect with residents old and new and enrich the sense of community that makes ACH such a special place to live!