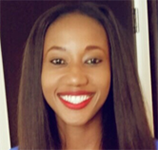 Graduate Resident Fellow
414 Cook Main
apa66@cornell.edu
Amanda is currently pursuing a MS degree in Natural Resources. Prior to Cornell, she received a BSc. from the same background from the Kwame Nkrumah University of Science and Technology (KNUST), Ghana.
Her research is focused on the geography of poverty and resource development particularly, the nexus of food, water, and energy systems and how these inextricably linked systems could be sustainably harnessed for the development and alleviation of poverty in low income countries.
Her hobbies include reading, calabash art, and watching soccer.