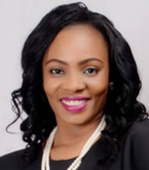 Graduate Resident Fellow
126 Baker Tower
ecs282@cornell.edu
Ebun is a graduate student in the School of Industrial and Labor Relations (ILR). She holds a bachelor's degree in International Relations from Covenant University, Nigeria and is a HR professional with about 5 years of generalist experience.
Ebun is originally from Nigeria and her interest in people management has taken her from working in several capacities in human resources to a professional degree in the field. She is passionate about putting things together and implementing systems for organizational efficiency, with strong interests in people development, talent management, diversity, and women empowerment.
When she is not working or studying, Ebun is volunteering, playing simulation games, connecting with friends, shopping or cooking.