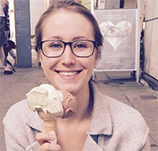 Graduate Resident Fellow
fh268@cornell.edu
Fiona is a PhD student in Food Science and Technology. She works on how obesity influences taste perception with the ultimate goal of helping patients restore their taste system.
Before coming to Cornell, she received her BSc in Biochemistry and Cell Biology at Jacobs University in Bremen, Germany. During her undergraduate degree, she did research at three different  institutions: Cambridge University (U.K, summer 2015), Tsinghua University (China, summer 2014), National Institutes of Health (U.S.A, summer 2013)
At Cornell she is co-president of the Cornell Graduate Consulting club and on the "broadening experiences in scientific training" advisory board endowed by the NIH with $3.7 million dollars
In her free time Fiona enjoys taking Cornell P.E classes including sailing and ice skating. She is also working on her private pilot license and loves listening to audible books.