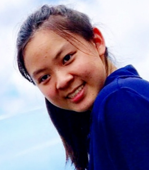 Student Assistant
303 Boldt Tower
jys43@cornell.edu
From Plano, Texas, a suburb outside of Dallas, Justine spent her freshman year at UT Austin before transferring to Cornell. At Cornell, she has made herself home at Alice Cook House and is currently a senior studying Biometry & Statistics and Biological Sciences in CALS. When she's not at Cook, Justine can be found in the Butcher lab at Weill studying heart valve diseases or practicing the viola, as she is very involved in Cornell Orchestras.
Justine also loves to figure skate, dance, make food, and hike (please join her when she's wandering the trails and gorges of Ithaca), though unfortunately, she is not very fond of cats or dogs.
Justine is the SA for Boldt Tower. She loves meeting new people, having fun, and hanging out. She's always here to listen and support her friends and community, so feel free to share whatever may be on your mind!