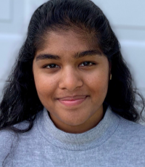 Student Assistant
207 Cook Main
lkk37@cornell.edu
Krishna is a senior pre-med student majoring in Anthropology. She grew up near Albany, New York. Krishna has been an active member of the Alice Cook House community since transferring to Cornell her sophomore year. She was first a member and later president of Cook Collective, which is the student leadership body of Alice Cook House. Currently, she is the Cook Collective Student Advisor.
When she's not on West Campus, you can find Krishna in the Human and Animal Bones Lab working on bioarchaeology research. In addition, Krishna is also involved in the Francophone club Association Francophone à Cornell and the community service fraternity Alpha Phi Omega.
Krishna looks forward to meeting new people and sharing her love of West Campus and the Alice Cook community with her residents. She hopes you enjoy being a part of the Alice Cook community and looks forward to the fun adventures ahead!
Hobbies/ Interests: Reading, Hiking, Learning Languages