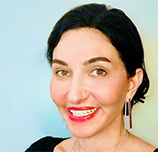 House Fellow
Founder & CEO, VanCort Consulting
eliza@vancortconsulting.com
Eliza has enjoyed a fascination with the power of communication to transform lives and change society for the better. Whether majoring in Political Science at CU Boulder, interning at DCCC, or studying the Meisner Technique in NYC, she has always been intrigued by human behavior's role in shaping society, and impacting personal/organizational outcomes.
In 2001, Eliza founded Central NY's preeminent Meisner Technique studio, The Actor's Workshop of Ithaca. Today she focuses primarily on her second entrepreneurial venture, the communication firm VanCort Consulting (VCC). VCC's success lies in Eliza's integration of personal narrative, voice/physicality techniques, and the latest research on race and gender.
With her domestic and international work at VCC, Eliza successfully parlayed her political science degree, arts background, love of people, and commitment to social justice into a meaningful job she absolutely loves.
Eliza also directs, acts, advises/writes speeches for political candidates, cycles avidly, produces indie films, parents four incredible young people, and recently gave a TEDx.