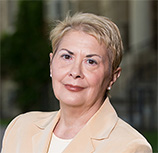 House Fellow
Vice President, Student and Campus Life
Cornell University
paw223@cornell.edu
Pat was promoted to Executive Director of Campus Life Enterprise Services on July 1, 2014. In this position, Pat is responsible to provide overall leadership and to direct and manage the operations of the enterprise and auxiliary services organization within the division of Student and Campus Life (SCL). Areas of responsibility include housing, dining, conference services, community center operations, the Cornell store (including all current and future satellite locations), the Cornell Store Distribution Center, Cornell digital print services, and Campus Life Marketing and Communications.This position requires continuous innovation in order to adapt to changes in the marketplace and within the University.
As Executive Director, Pat has cultivated and facilitated effective relationships among her internal and external constituencies and has partnered with the AVP of SCL in the strategic development, direction, and implementation of business operations and financial policies and procedures for this very large and complex department. Pat has partnered with the SCL Director of Facilities on both operational concerns and the long-range and capital planning processes. In close coordination with the SCL lead from Administrative Human Resources, Pat oversees hiring, salary, disciplinary actions, and terminations. She also works closely with SCL Marketing and Communications on planning for and promoting the departments' goods and services and in providing effective communication strategies and materials for internal and external audiences. She has been collaborating closely with the West Campus House System in areas of overlapping interest. Pat's main focus for Campus Life Enterprise Services is to continue to maximize revenue opportunities and generation and to be an excellent steward of university resources. Pat currently reports to Ryan Lombardi, Vice President, Student and Campus Life.
Pat was hired as Director of The Cornell Store in May 2011, responsible for the operation and productivity of the $23 million campus store and its associated venues. The Cornell Store(s) pay approximately 2 million dollars in overhead to the university every year, money which is used to fund various programs across the campus.  
Pat is a retail professional with 40 years of experience in leading various retail venues. Before coming to Cornell, Pat was Vice President, Borders Sales Promotion, Specialty Retail, and Paperchase, a position she held from 2007 until she left Borders in 2010. Pat was with Borders group for a total of 28 years in various positions, starting as a district manager, and working her way up through the ranks. She was district manager of the year in 1984, and regional director of the year for three consecutive years from 2001 through 2003, and was promoted to Vice President of Specialty Retail in 2006.
Pat graduated magna cum laude from John Carroll University, Cleveland, Ohio with a Bachelor of Arts degree in English literature. Pat also completed a 40 hour finance course at the Ross School of Business, University of Michigan, and has participated in numerous leadership development courses throughout her career, including Leading Cornell.