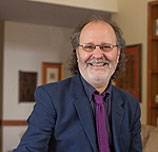 Milton R. Konvitz Professor of Judeo-Islamic Studies & Stephen H.
Weiss Presidential Fellow
413 White Hall 607-255-6275
Ross Brann studied at the University of California, Berkeley, the Hebrew University, Jerusalem, New York University, and the American University in Cairo. He has taught at Cornell since 1986 and served fourteen years as Chair of the Department of Near Eastern Studies, completing his fourth term in 2006. Professor Brann is the author of The Compunctious Poet: Cultural Ambiguity and Hebrew Poetry in Muslim Spain (Johns Hopkins University Press, 1991), recipient of the 1992 National Jewish Book Award in Sefardic Studies, and Power in the Portrayal: Representations of Muslims and Jews in Islamic Spain (Princeton University Press, 2002). He has received fellowships from the John Simon Guggenheim Memorial Foundation, the National Endowment for the Humanities, and the Center for Advanced Judaic Studies of the University of Pennsylvania. Brann is also the editor of four volumes and author of essays on the intersection of medieval Jewish and Islamic cultures. He is currently working on Andalusi Moorings: Al-Andalus and Sefarad as Tropes of Muslim and Jewish Culture for the University of Pennsylvania Press. In 1996 he received the Stephen and Margery Russell Award for Distinguished Teaching from the College of Arts and Sciences and in 2007 was appointed as a Stephen H. Weiss Presidential Fellow. In June 2010 Brann stepped down as the faculty co-chair of the West Campus House System Council after six years of service as the founding Alice Cook House Professor-Dean.