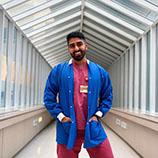 Alikhan is a 2nd year Ph.D. student in Biomedical Engineering. His research investigates the efficacy of bone marrow aspirate as a treatment for degenerative disc disease. Specifically, he aims to uncover what role mesenchymal stem cells play in resolving disc degeneration, and how they influence neighboring cell types in this process.
Outside of lab, Alikhan is a board member for the LGBTQIA+ graduate student association, QGrads. Additionally, he is a member of the Orthopaedic Research Society's (ORS) LGBTQIA+ community network, Pride @ ORS.
In his free time, he enjoys hiking, dancing, and going to music festivals. Alikhan is most looking forward to building community with his residents and fellow staff at Alice Cook House!