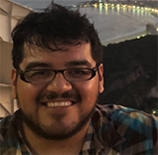 Graduate Resident Fellow
alb445@cornell.edu
Andy L. Barrientos-Gómez is a fourth-year PhD student in the Department of Romance Studies where he studies the representation of ruins in contemporary Latin American literature and film. His areas of study are Mexico and Brazil.
Andy enjoys being an active member of the Cornell community and is serving as President of the Graduate and Professional Student Assembly (GPSA).
In his free time, he enjoys creative writing, listening to vinyls, watching soccer (Chelsea FC/Real Madrid), making Kombucha, going to the cinema, and karaoke with friends.