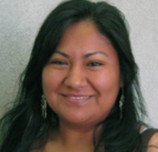 House Fellow
Director, Multicultural Resource Center
fb29@cornell.edu
Fabina B.Colon is the Director of the Multicultural Resource Center (MRC), a small non-profit organization working on cultural and systemic change through organizing in Tompkins County. Fabina is a native of Peru. She moved to Tompkins County along with her family at the age of 9. She is passionate about multicultural education, sustaining indigenous knowledge and values, and employing arts and culture as vehicles for community-building and social change.
In addition to her work with MRC, she founded Tompkins County's first youth-led annual International Youth Arts and Culture Festival (IYAC Fest) and also co-founded Creative Community Designs (CCD); working towards positive social change through action planning, civic engagement and participation. 
Fabina is a longtime community advocate and has served as a volunteer and Board member for a number of organizations; she is currently a Board member of the Community Foundation of Tompkins County, Civic Ensemble, and the Diversity Consortium of Tompkins County.