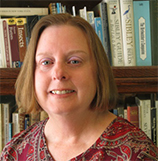 House Fellow
Professor, Vet-Microbiology & Immunology
kae1@cornell.edu
Dr. Kathy Earnest-Koons is a Senior Lecturer in the Department of Microbiology and Immunology at the College of Veterinary Medicine. She grew up in Norfolk, VA and attended Lynchburg College where she received a B.A. in English. She received her D.V.M. from the University of Georgia College of Veterinary Medicine and then completed a Master's degree and a residency in Laboratory Animal Medicine at the Milton S. Hershey Medical Center at Pennsylvania State University.
Dr. Earnest-Koons came to Cornell to do a second residency in Veterinary Pathology. When she was completing her residency, the Veterinary College was just embarking on a new curriculum, which featured small group, problem-based learning. She joined the faculty and was part of the team that developed the new curriculum. She now serves as the course support specialist for Foundation Course IV-- Host, Agent and Defense, which is a team-taught multidisciplinary 12-credit core course. This course encompasses eight disciplines including pathology, microbiology and immunology. During the spring semester she teaches an elective course on swine infectious diseases.
In addition to her teaching duties, Dr. Earnest-Koons serves as the faculty advisor for several student clubs. She enjoys working with the veterinary students and getting to know them outside the classroom. She looks forward to meeting and interacting with many of the residents of the Alice Cook House at dinner or brunch.
Dr. Earnest-Koons lives in the Fall Creek neighborhood of Ithaca in a 1915 mission-style bungalow with her husband, Phil Koons, and their cat, Django. She enjoys reading, birding, fishing, camping, cats, travelling, acting, bowling, the theatre and being outdoors.