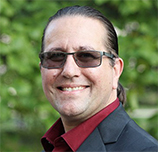 House Fellow
Director, Student Leadership
Engaged Cornell
bishop@cornell.edu
During his fourteen years in higher education, Mike has honed his practice of developing transformational programming, coaching professional staff in a "students as colleagues" approach, and collaborating with faculty to advance engaged scholarship.
Before completing a career-transition MEd in 2003 with a focus in administration, planning, and social policy at Harvard Graduate School of Education, Mike worked for five years with the Missouri Division of Youth Services as a youth counselor, youth group leader, and trainer. While living in Springfield, Mike also worked part time with The Kitchen, Inc., as a homeless shelter youth activities coordinator and with Leadership Ranch as a challenge course facilitator. His other full-time professional experience includes serving as chief instructor with Homeward Bound with the Massachusetts Division of Youth Services and as a teacher with Head Start.
For ten years with University of California Berkeley's Public Service Center, he oversaw all co-curricular student leadership and service programs, the Center's local poverty initiative, new alumni development, and student learning assessment. He developed and spearheaded Magnolia Project, the Center's ten-year commitment to post-Katrina New Orleans, in the process deepening his understanding of race and class privilege.
Prior to his work at Berkeley, Mike served as the assistant director for the Harvard Public Service Network and Center for Public Interest Careers. While there, he partnered with Harvard College alumni to offer summer and post-graduate internships mentoring opportunities to students. Mike has cultivated these and other cross-generational learning spaces as a way for each cohort of leaders to serve those coming after.
Mike is a native of Mt. Morris, New York, where his Italian-American family has lived for many generations. His high school years at McQuaid Jesuit High School in nearby Rochester exposed him to top-tier teachers who challenged his sense of personal commitment to the public good, as well as his sense of community formed from his small-town upbringing. After receiving his BA in Sociology from Georgetown University, Mike volunteered in Nicaragua, where he grappled with what it meant to be useful to community-driven development.