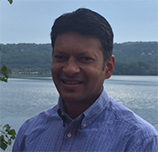 House Fellow
Department of Human Resources
Student and Campus Life
sv92@cornell.edu
Shan Varma grew up in Highland Park, NJ and received his BA from Rutgers College as a double major in Economics and Political Science. He then went on to receive his JD from Southwestern College in Los Angeles. After passing the California State Bar, he served as a Staff Attorney at Public Counsel,a not-for-profit law firm in Los Angeles, as well as Positive Resource Center, a nonprofit community-based organization in San Francisco. He then returned to Los Angeles to complete a MBA from the Marshall School of Business at the University of Southern California. Before moving to Ithaca in 2005, Shan worked as a Sr. Personnel Analyst within the Employee Relations Division of the City and County of San Francisco. He has been employed as a HR Manager within the College of Agriculture and Life Sciences for the past 10+ years.
Shan is married to Kim Owen, a psychiatric social worker at Cayuga Medical Center and they have two children - Domenic 14 and Gianna 11. Besides both playing the cello, Domenic plays Babe Ruth baseball, and Gianna plays lacrosse with the Ithaca Little Red. 
In his spare time, Shan coaches Domenic's baseball team, is an active member at CrossFit Pallas, and otherwise patiently waits for the Oakland Raiders to return to the Super Bowl.