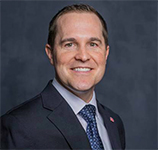 House Fellow
Lecturer, Management Communication
SC Johnson College of Business
School of Hotel Administration
aq43@cornell.edu
Andrew Quagliata is a lecturer of management communication in the Cornell University SC Johnson College of Business, School of Hotel Administration. He teaches a first-year business communication course, an upper-level persuasive communication class, and an elective, Communication for Entrepreneurs. He also teaches Leadership Communication for Innovators in the Hotel School's Executive Education Program. Quagliata's research interests include communication pedagogy, entrepreneur communication, and the relationship between communication and career success.
Andrew sits on the Cornell University Educational Policy Committee, and he also participates in the First-Year Student Dining Discussion Program. He is an active member of the Association for Business Communication (ABC) where he is on the Teaching Committee. Andrew is the Chair of the ABC Meada Gibbs Outstanding Teacher-Scholar Award Committee, Chair of the ABC Mentor Program, and an Ad Hoc Reviewer for the Business & Professional Communication Quarterly.
Andrew earned his Ph.D. in Organizational Communication from University at Buffalo, his M.B.A. in Management & Leadership and bachelor's degree in Professional and Technical Communication – both from Rochester Institute of Technology. Prior to joining Cornell, Quagliata held professional positions in finance and higher education. Andrew is a Social Style & Versatility Certified Instructor and a Gallup Certified Entrepreneurial Talent Coach. Andrew has been honored with the Hotel School's Teacher of the Year Award and the Merrill Presidential Scholar Outstanding Educator Award at Cornell University.
Andrew is married to Susanne Quagliata and they have two young children. Their family enjoys gardening, hiking, and boating on Cayuga Lake.