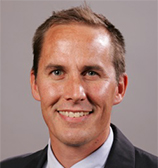 House Fellow
Henry E. Bartels '48 Head Coach of
Men's Lightweight Rowing
cjk87@cornell.edu
Chris Kerber was named the Henry E. Bartels '48 Head Coach of Men's Lightweight Rowing at Cornell University in August 2008. Kerber brought a wide-array of experience to the position as both a former rower as well as an administrator.
A national and international rower for 14 years, Kerber was a seven-time member of the U.S. national team. He was a two-time World Champion and won numerous medals at the Henley Royal Regatta, the Pan-American Games, and the U.S. National Championships. He placed among the top six lightweight men for both the 1996 Atlanta Olympics and the 2000 Sydney Games, serving as an alternate for both teams.

Since retiring as a competitive athlete in 2000, Kerber has given back to the sport of rowing in various ways. He has coached and developed training plans for university, club, and masters rowing teams; he helped run the prestigious Head of the Charles Regatta for four years; and he was a venues consultant for FISA (Fédération Internationale des Sociétés d'Aviron), the governing body of the sport of rowing.

As an undergraduate at Temple University, Kerber earned four medals at the Dad Vail Regatta.